Designing a Shopping Experience That Works with a Curated Service Model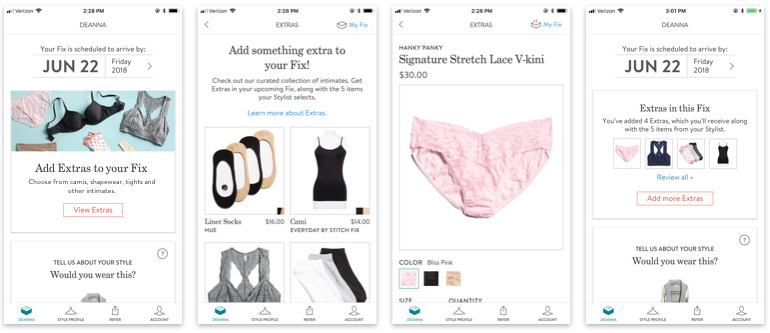 Key screens in the marketplace, which is prominently featured on the customer's home page.
The Opportunity: Stitch Fix introduced the Extras marketplace to deepen customer relationships by providing an easy way to evaluate and purchase everyday intimates. Customers make a selection of intimates which are delivered in the box along with their 5 stylist-curated items.
The Product Challenge: The core Stitch Fix experience is not a typical e-commerce one in that customers do not select or purchase the clothing before it arrives. The launch of the Extras marketplace marked the evolution of the service model to allow customers to see the merchandise and make their own selections. This required a high level of effort and coordination among cross-functional partners in strategy, marketing, product design, brand, copy, photography and engineering.
Core Team: Business strategy lead, product design lead, photo studio manager, engineering leads
My Responsibilities as the Product Design Lead:
Identifying areas of product that require cross-functional support
Advocating for user-centered, high quality, on-brand features
Driving and facilitating stakeholder alignment and work processes
Planning and executing product design research
Designing the UX and visual UI of the marketplace for the website and app
Pushback from Partners
The strategy team's guiding project principles were 1) to make the customer experience of Extras feel effortless, and 2) to minimize engineering work. To that end, they had not planned to include any product details.
Industry research shows that when e-commerce experiences fail to provide basic product details, users are less comfortable ordering a product and more likely to return it than when details are included. I shared this third-party research with the strategy team and made the recommendation to include the product details, but there was resistance to do so – based on the project principles.
Making a Case with Data
To address the pushback, I gathered additional inputs and conducted research. First, I led discussions with merchandisers and engineers to understand the current system and asset the level of effort required to product details. (How do merchandisers currently input details from vendors into the system? Are there fields available that we can convert to be customer-facing?)
Next, I ran usability studies with a design prototype to pinpoint the types of information that existing customers, as well as new users, would need.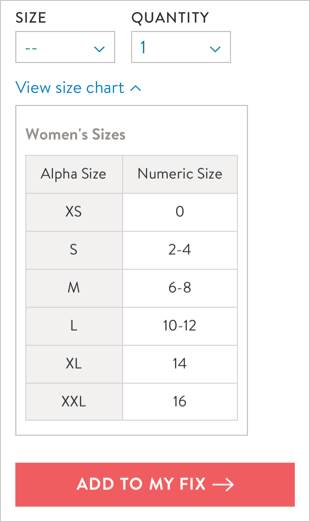 Brand-specific size charts were added after launch.
Test users were asked to view 2 items and to share what type of details, if any, they would need to make an ordering decision. There were clear categories of information:
Materials: Knowing the fabric content was important to most users.
Additional photos: Users wanted to see more photos of the product, specifically a back view, in order to make a purchasing decision.
Size and fit: Requests included size charts, length of the cami, adjustable straps (yes/no) and true-to-size details.
Reviews: Many users rely on reviews to make decisions.
I presented the findings and led a discussion on how we might create a process with minimal engineering effort. Stakeholders aligned on including basic details and hard-coding the copy (with a limited collection of intimates being offered, this proved to be a low-cost effort). To address the request for size and fit information, we agreed to add brand-specific size charts as a fast-follow to launch. From there, I worked with the merchandise and copy teams to define the copywriting process and style guidelines.
The Extras feature allows customers to view and select their own merchandise, which is included in their shipment along with the 5 items curated by the stylist. Making this distinction clear to customers and new users was a primary design challenge.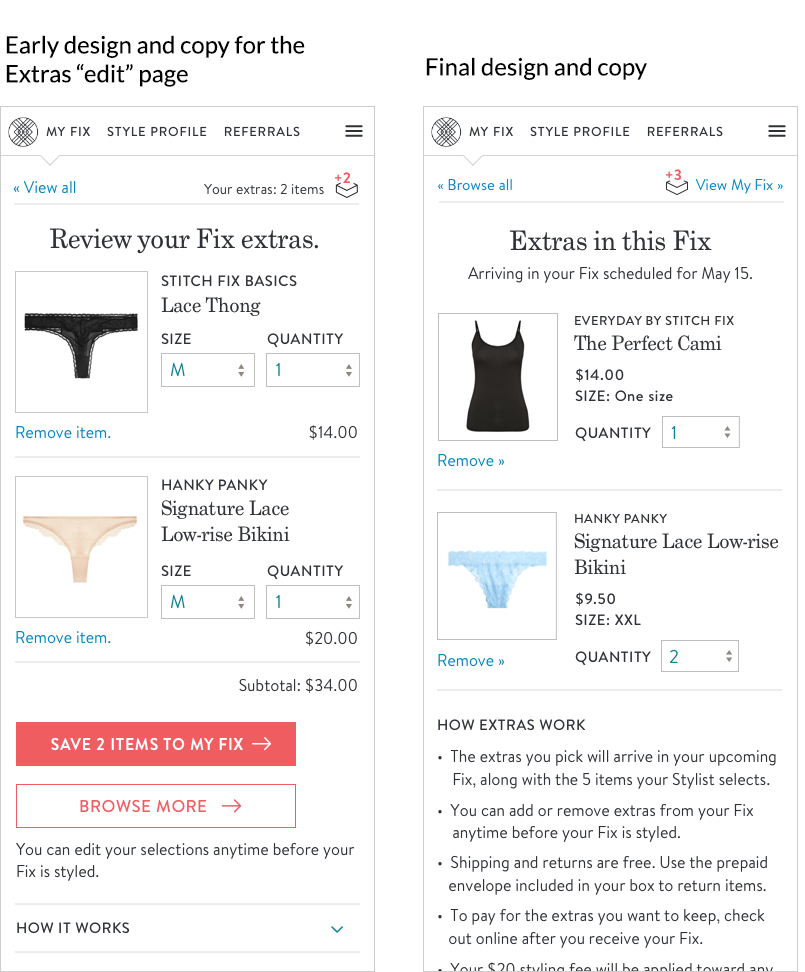 Early design and copy explorations for the "edit" page showed a subtotal amount and used typical "review" language. In usability studies, users weren't confident they had completed all steps necessary to order their Extras, and some were confused about when they would be charged and when the order would ship.
To reduce confusion, I diverged from e-commerce conventions by removing the "review" copy, subtotal and call-to-action buttons on the page. I made the "how it works" copy more prominent so users could easily see and skim it. The "edit" page became an optional part of the selection flow, rather than a key step. Follow-up usability studies indicated that the issues had been solved and users understood the mental model for Extras.
Business Results
Extras for the women's business line launched in February 2018 and has led to increased customer retention and engagement. The feature was expanded to the men's business line in September 2018.
UX Results
After the launch we gathered data to understand how users were interacting with the feature at scale. The results gave us confidence that the UX was working as intended. Combining the UX metrics with the business data provided insights that lead to future iterations in the form of A/B tests.
The new design patterns and the engineering work for the Extras marketplace laid the groundwork to build and test other features that enable customers to get more value from Stitch Fix by browsing and purchasing from a curated selection of items.