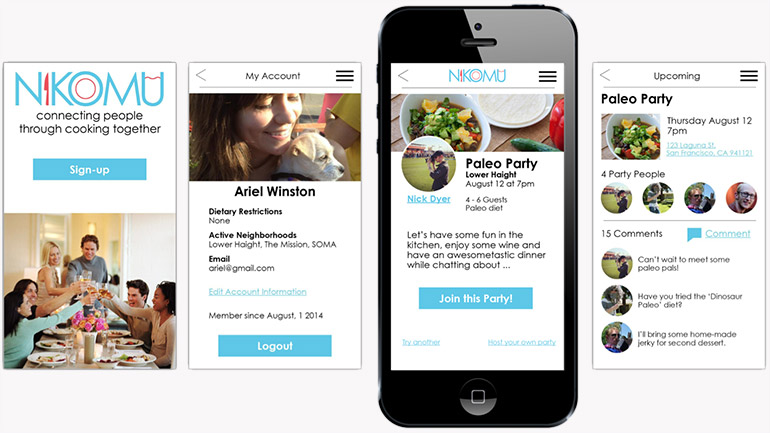 UX and UI design by Linda Nakasone and me. Visual design by Nick Dyer.
Connecting People Through Cooking Together
First Place Winner!
For the 2014 Startup Weekend Lifestyle, Health & Wellness hackathon, our team placed first. We created Nikomu ("to cook together" in Japanese), a web app that allows people to host or join a dinner party. Our goal is to help urbanites make meaningful connections to the people where they live through cooking together. Dinner menu options, cooking instructions and delivery of ingredients are handled through the app, so the focus is on people gathering and cooking together as a social experience.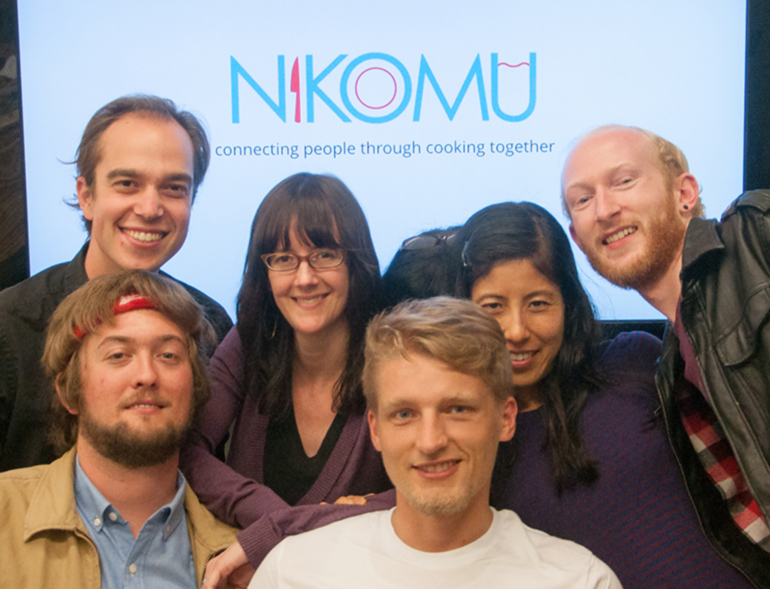 The passionate, hard-working team: (clockwise from top left)
Sean, me, Erika (camera shy), Linda, Nick, Karlis and Cory.


Photo by Nick Dyer.
The Team and Process
Seven people came together for two days to build the app, including two developers, two UX designers and one visual designer. I worked in tandem with UX Designer Linda Nakasone to accelerate the UX process. Working at the whiteboard, I facilitated the persona creation and kicked off the design stories, with the engineer sketching them out as task flows.
The provisional persona is a 25-year-old professional, sociable, open-minded woman who recently moved to San Francisco and wants to meet new people. To confirm our assumptions and learn more about customer needs as well as product-market fit, five team members hit the streets and phones to interview 20 people in the city on Saturday morning.
User Stories
After quickly capturing and synthesizing the interview results, the team created the key user stories. These include the ability for "guest" users to select preferred dietary options and neighborhoods, choose a party to join, view the Facebook profiles of guests attending the same party, post messages to the party group and review the host and guests after a party. "Host" users can also create a party, choose a menu and accept or reject guests.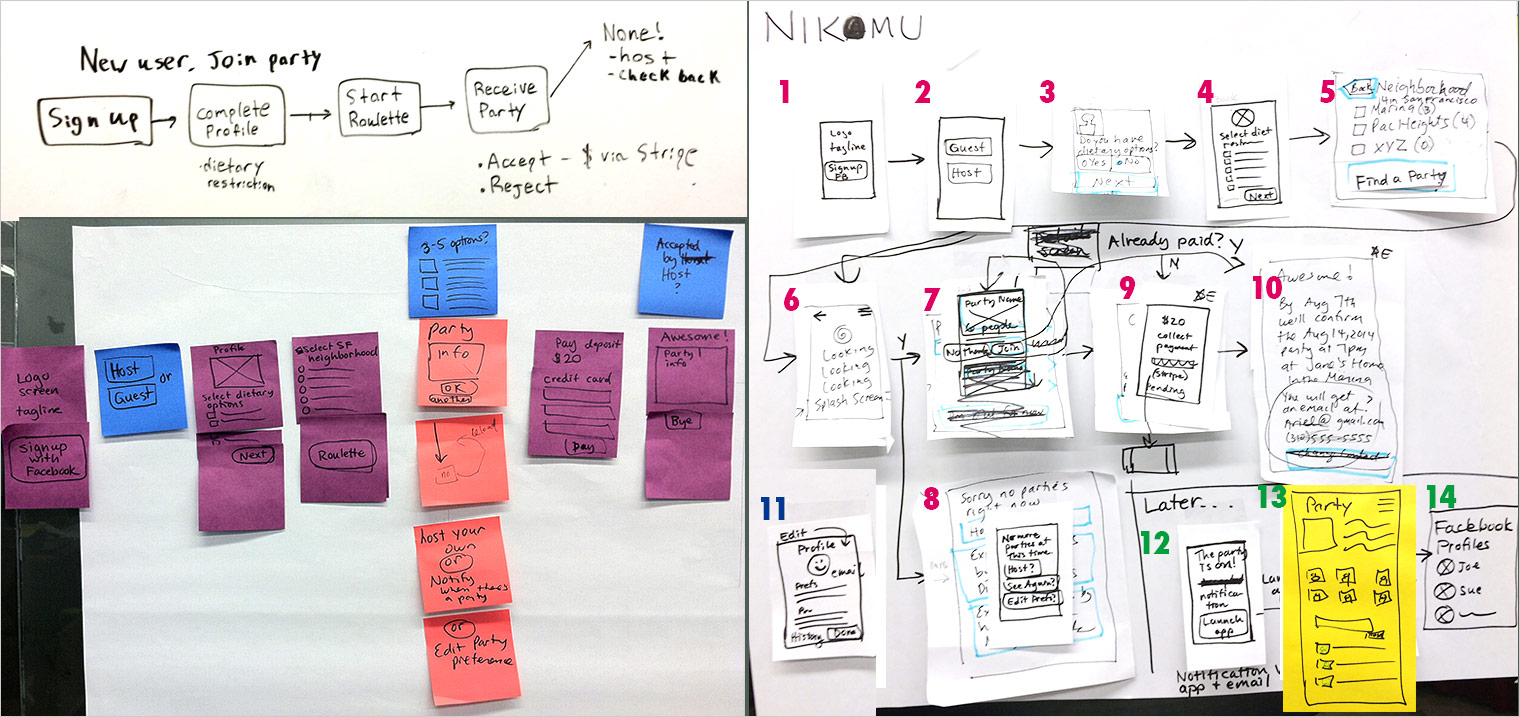 User flows from whiteboard to stickies to paper, drawn by Cory, Linda and me.
Flows and Wireframes
Linda and I roughed out the user flow on sticky notes with the team. We iterated on the flow and interfaces using paper, then moved to digital wireframing in Illustrator. Tackling the key design screens first, we split the work and passed each completed wireframe onto the visual designer and developers. By Sunday 3pm, we had a functioning prototype on Heroku.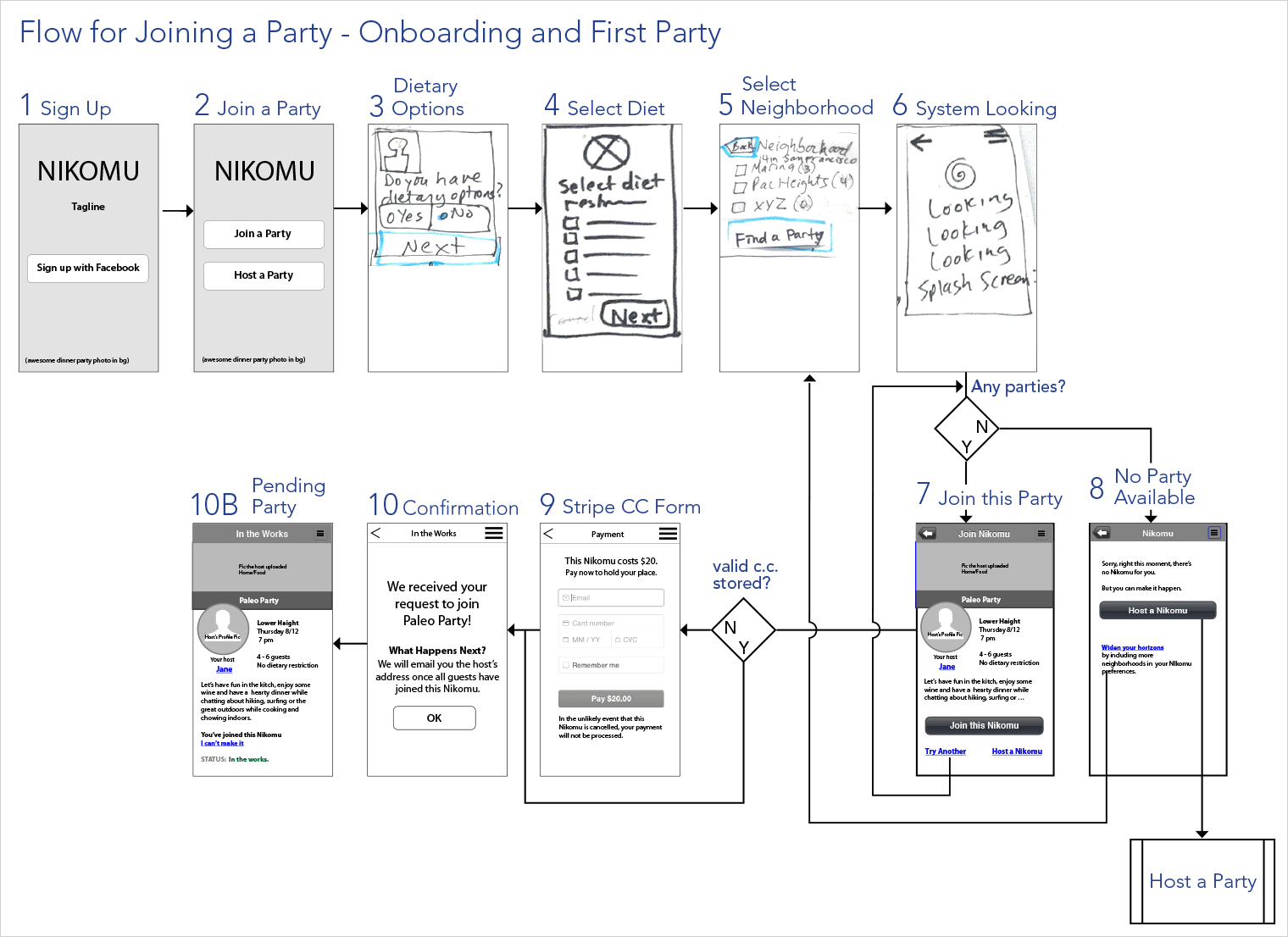 Interface flow for onboarding and joining a dinner party, created by Linda and me.
Conclusion
Pair designing with Linda was a great way to rapidly think through UX and UI decisions. Having the time pressure of the hackathon pushed everyone to be decisive. Our team did an amazing job of brainstorming big, narrowing the focus to a minimum viable product and then executing it smoothly.